Spring is in full bloom once again! Just in time for the Easter festivities. And just in time to release this new free plush Easter Bunny sewing pattern!
These mini plush bunny dolls are so fun to make and adorable too! Whip up a pile of plushies in mere hours! Each fleece bunny takes around an hour and a half to create.
The bunny dolls are made up of super fuzzy fleece and wool felt. This pattern is design for hand sewing, however the fleece bodies will work up fine with the use of a sewing machine and a careful stitch.
Printable PDF Bunny Sewing Pattern!
This pattern is available as a free instant download! Print the pattern from your home computer to sew up your very own Easter bunny plush whenever you may want to!
The bunny sewing pattern will come to you in the form of a digital PDF file. Open the file in a separate window and save to your desktop for later use. Or print it immediately and start your project!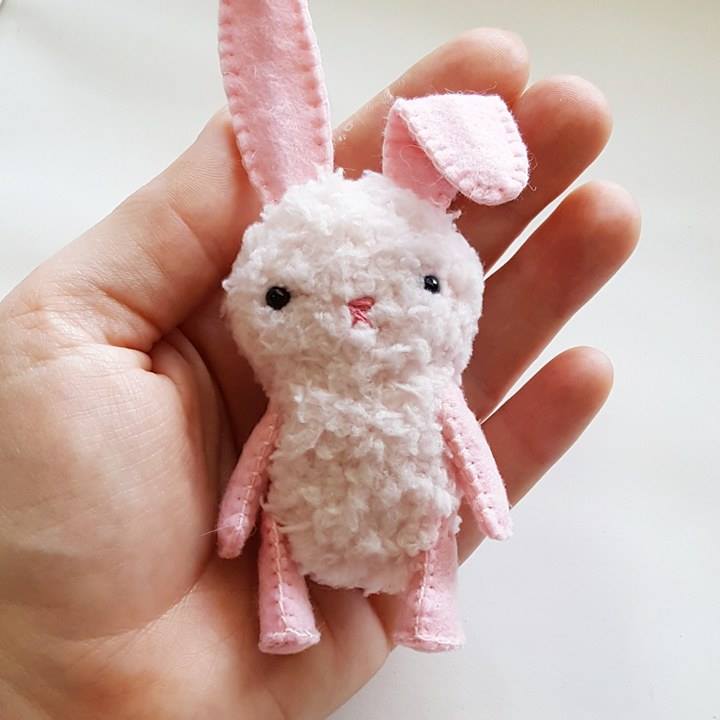 How To Sew Your Own Mini Easter Bunny Plush Dolls!
Materials and supplies needed:
Felt
fuzzy fleece fabric
doll eyes, beads, or small buttons
needle and thread
embroidery thread
stuffing
pipe cleaners (optional)
For full instructions and diagrams to sew your own plush Easter bunny doll, download my printable bunny sewing pattern PDF file.
The materials needed to sew this project are inexpensive and minimal. The finished product fits in your palm!
You can even make these small plush bunnies from fabric scraps! Felt sheets and fleece can be found online and in most fabric shops. Or message me and I can put together a custom sewing kit for you, complete with fleece and dolls eyes!
Check Out My Newest Fuzzy Jointed Animal Patterns!
---
Don't forget to check out my other Bunny and Easter/ Spring themed animals and dolls!
I've got animal and doll sewing patterns, and even DIY craft kits!
Jointed Bunny Dolls Sewing Pattern
Itty Bitty Bunny Felt Animal Sewing Pattern
Pocket Doll Bunny Sewing Pattern
Hen and Chick Sewing Pattern
Thank You For Visiting!