Create your own hug-able and adorably shy looking doll with this printable PDF bunny doll pattern.
This free printable sewing pattern will help you make this 12 inch bunny with a cute peter pan collared dress.
This easy to make doll is best made with felt or fleece. A perfect doll to add to your children's collection. Very suitable for children's play!
Why not make several dolls? All in different colors with different patterned dresses?
The more the merrier!
Printable Pattern Details
This bunny doll pattern is computer drafted and comes to you by instant download link by email, in the form of a printable PDF file.
The PDF file can be printed onto regular 8.5″ by 11″ paper. The pattern is complete with pieces for making the bunny doll and dress. There are illustrations and instructions showing how to sew this easy to make doll.
Suggested Materials and Supplies
fleece or felt
dress fabric
toy stuffing
doll eyes, buttons, or beads
embroidery thread
snaps or buttons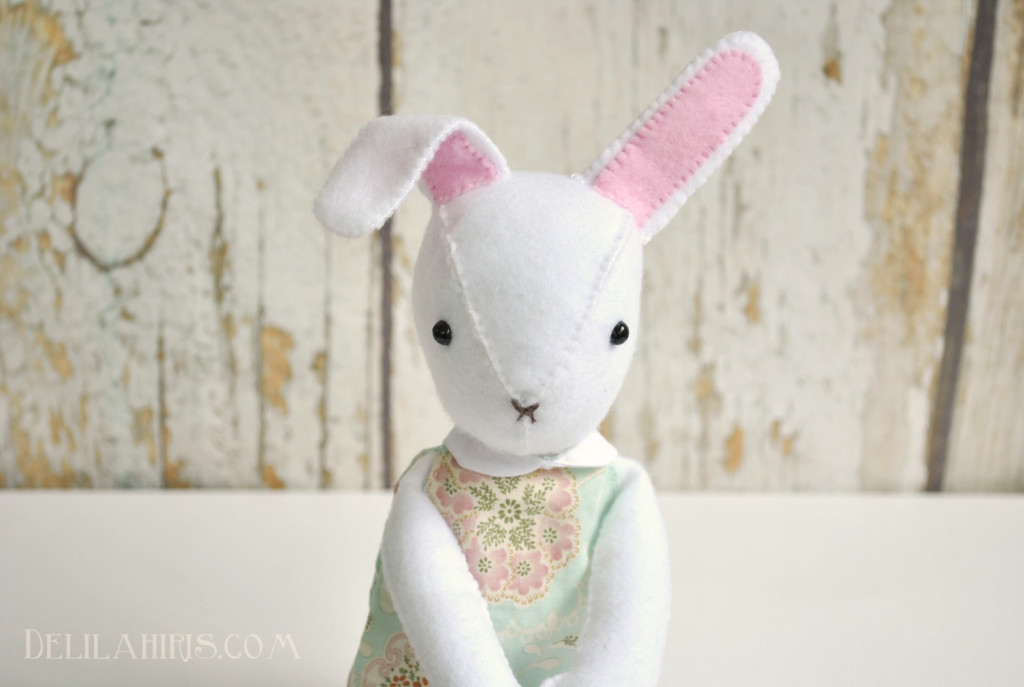 Isn't she just so cute and innocent looking?
This doll is quite easy to make. Arms and legs are sewn in for child's play, or you can choose to make button or string jointed arms.
Stay tuned as I add more animal and other dolls. I will add more clothing and doll clothes patterns over time as well.
Almost all of my toys are made with children in mind. What good is a toy if a child cannot play with it without breaking it? You won't find many "gentle child's play" notices here!
I also offer many of these dolls and miniatures on a made to order or custom basis. Just contact me or visit my Etsy shop.
Enjoy!
Homepage > Doll Sewing Patterns > Bunny Doll